This year, the PONS innovation team has presented the pearls of extra virgin olive oil, and in this post, we want to highlight those that are made with our Green Oil, since they are ideal to give a surprising touch to any cold cream.
These pearls are made using the earliest oil that we produce, with olives harvested during September, with which we obtain intense color oil pearls and with a very fresh sensation when they explode in the mouth.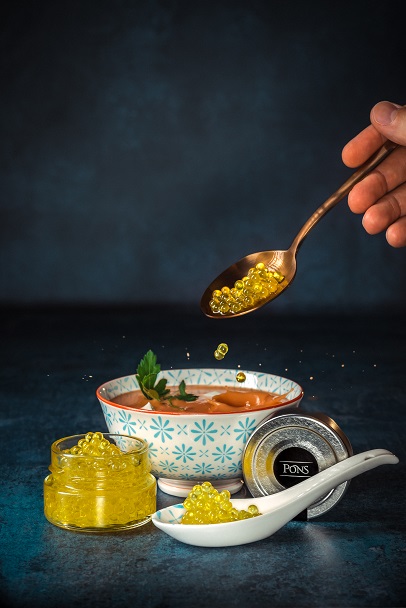 The olive oil is spherified with a gelling agent derived from seaweed, thus, it does not alter the taste or properties of extra virgin olive oil.
The film that covers the oil helps flavors not mix and the oil stays inside the sphere until it enters the mouth, therefore, all the flavor of the olive oil is provided in a more intense way.
This sphere is very thin but, at the same time, resistant to high temperatures, a fact that allows us to finish hot dishes.
They will be very useful in tapas or finger foods, since are dishes eaten in one bite, the pearls will give them a differential touch.
If you liked the concept of oil pearls, below you will find the green olive oil pearls that we have available in the online store.