Now you can visit us without worrying about the state of your battery or calculating which is the nearest charging point to CLOS PONS. One more step towards a sustainable environment and care of our habitat.
The celebration of the PONS FOOD FESTIVAL was not only a gastronomic event with food pairings and gastronomic fusion of PONS oils and wines, it served to inaugurate what is the first, but will not be the only, Clos Pons electric car charger, a commitment to sustainability and care for our environment that gives us and offers us so much, by taking care of it, we take care of all of us.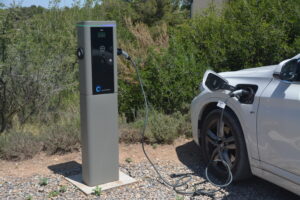 We would like to point out that we use electricity generated from renewable sources, such as solar energy.
The charging post allows simultaneous charging of two vehicles, maintaining a charging rate of 11 Kw/h per charger.
These charging stations enable the installation of electric charging infrastructures in a location such as CLOS PONS, in the middle of a natural environment, where the love of the land and the cult of the senses rises among vineyards and olive trees.
Pricing and conditions: 2 hours of charging 8 € vat included, if you want to charge more, the price increase will be in proportion to the base ticket, for customers who buy tickets for more than 60 € the recharge will be free.