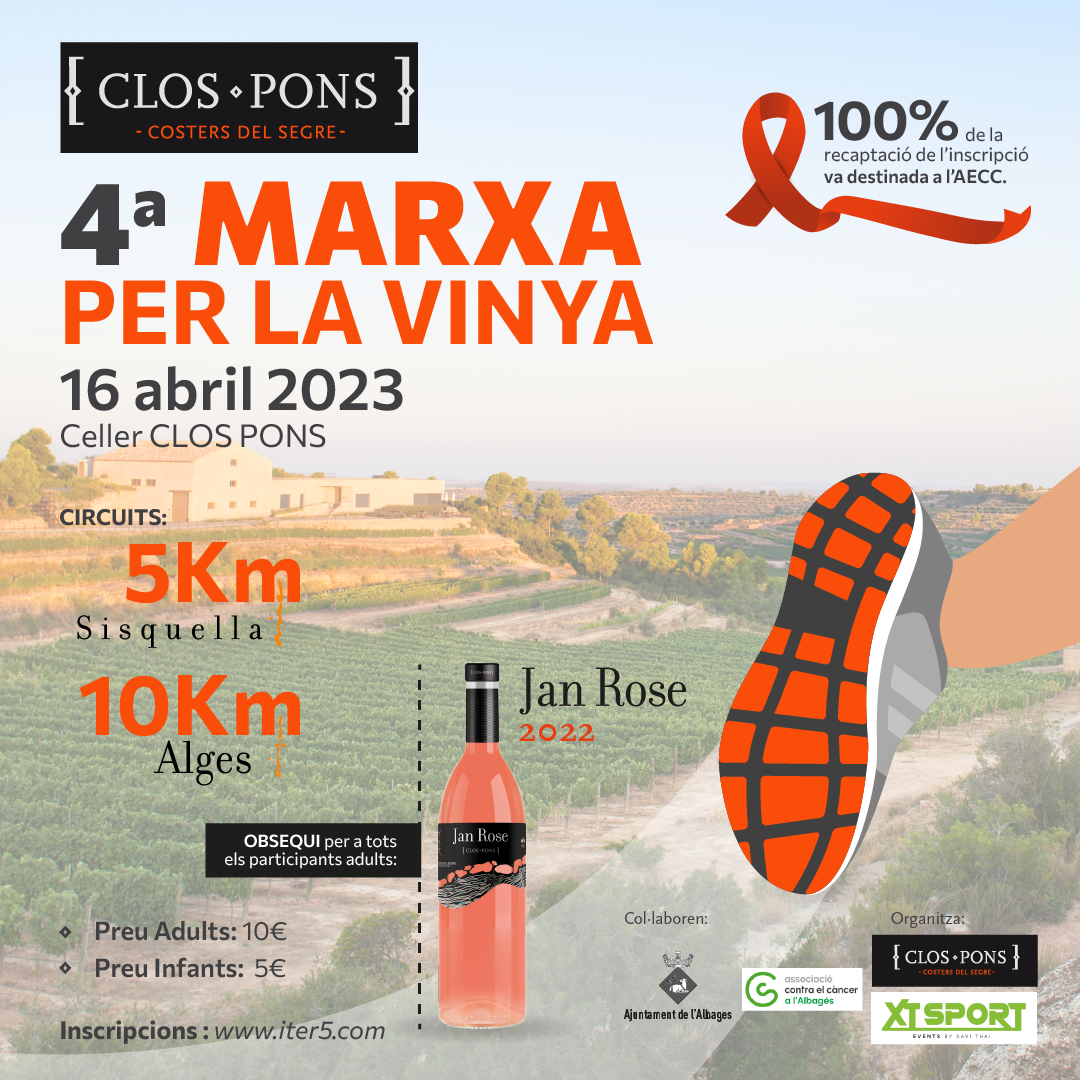 4th CLOS PONS MARCH
On Sunday April 16, 2023 at the Clos Pons winery we will hold a 100% solidarity march where all the money will go entirely to the Cancer Association in Lleida. You can register here: REGISTRATION
We will do two distances, a simple one of 5 km and those who want to walk a little more, the 10 km. This year the novelty is that both circuits will pass entirely through the Clos Pons estate. Where you can see the vineyard where Sisquella is made, the Mas del Safrà, our donkey, next to the clos pons cave where inside we find a great secret, our hundred-year-old oak, by our olive trees, the Mas 1905 and much more to discover.
First we will give the bag to the runners from 9:00 to 10:00 for the 10km and from 10:00 to 11:00 for the 5km.
10:00 start of the distance of 10.5 km track march 10 km
11:00 departure of the distance of 5km track march 5km
There will be a half-way supply of solid (fruit) and liquid at the 10km distance
For those who come to accompany the marcher, there will be visits to the Clos Pons winery
On arrival there will be refreshments for all the marchers with a vermouth in the cellar area with fries, olives,…. And of course with the Clos Pons Vermouth.
This year we will have a FOODTRUCK for those who want to make some coffee, drink or eat something different.
As every year, registration will be €10 for adults and €5 for children. All the money goes to the Association Against Cancer in Lleida. So we do not accept returns as it is a donation.
In the marcher's bag you will find:
A bottle of JAN ROSE. ID will be requested when picking up the bag, we will NOT give the bottle of wine to the person who cannot come and is signed up, but we will give the anti-cancer backpack with everything inside.
A backpack from En MARXA against cancer of the Associació Contra el Cáncer in Lleida.
For the little ones, a keychain from the Association Against Cancer in Lleida.
A water bottle that you will use to drink and refill supplies or the arrival if you run out of water, it must be sustainable and not generate waste, if anyone wants to bring their own bottle no problem!!!
You can register here: REGISTRATION WILL CLOSE AT 300 REGISTRATIONS ON SATURDAY APRIL 15 AT 2 PM
Enrolled list: REGISTERED